Think about it:
After all the searching, sorting, filtering, and shortlisting, a prospective student visits your high school, college or university website.
Most likely, he or she is looking for information on courses, financial aid, registration process, due dates, faculty, research opportunities, or even some stats on the campus placements.
Now, you probably feature answers to most of the commonly-asked questions already on your website. But at the same time, students might also have more specific, nuanced questions for you.
Not to mention that your current students will always have questions for you, whether for academic advice or technical assistance.
So, where and how do your prospective and current students ask you those queries? One option ⁠— the most effective option ⁠— is live chat.
The Benefits Of Live Chat in Education
1. Visitors like live chat
Let's start with the most obvious benefit: Visitors (students included) prefer live chat over other communication channels.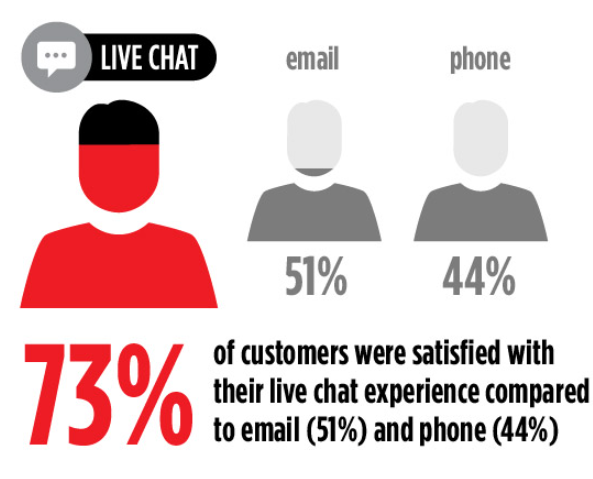 Though these aren't education or institute-specific statistics, they do give a general idea of students preferences:
73% of people find live chat to be the most satisfying way of communicating. Comparatively, only 51% like email and 44% like calling.
77% won't make a purchase if there's no live chat support
44% say that having questions answered by a live person while in the middle of a selection process is one of the most important features your website can offer.
Meaning, if you want to improve the student experience, adding live chat for communicating is a step in the right direction.
2. Live chat allows you to proactively engage with your website visitors
Prospective students can leave your website after seeing the overwhelming amount of web pages they'd have to surf through to get answers. Even worse, if they have specific questions, they can:
Either not bother emailing or calling you for their tiny queries and move on to other colleges on their shortlist
Or, email you, and by the time you respond, they would've explored other options.
With proactive live chat, you eliminate all the possibilities of prospective students not asking queries or switching to another institute before hearing from you. By proactively asking, "Hello! Got any questions? We're here to help!" and giving a send a message box right below it, you encourage visitors to ask their queries.
Tip: Give visitors department/query category options (for example, department categories like 'Finance,' 'Law,' 'Marketing,' etc.) before starting the live chat session to route the query to the right expert.
3. It also makes it easy for students to ask queries
Most students know that a live chat widget is typically located at the bottom-right of a website, so they immediately notice it (even if you don't show a proactive popup). Therefore, when they have a query, they just click on it and ask.
Generally, if your support team is online, students will expect (and get) an instant response. However, let's say your live chat operators are available for a limited time, like with Berkley College.

Then, too, you can allow students to leave their message, alongside their name and email, through live chat. That way, the student won't have to go through the effort of finding your email address and drafting a formal-sounding email.
Side Note: Did you know you can increase lead count and conversions with live chat? A survey found 42% prefer giving contact information through live chat.
4. With live chat, you have real-time conversations
Live chat is conversational. Students can ask a question, get an instant response, and ask a follow-up question.
Such real-time conversations aren't possible with email in most cases.
On the other hand, a free-flowing conversation is achievable with a phone call, but it has downsides too. The agent can't send forms, links, docs, brochures, etc., to add context while on call. For example, the phone agent can say, "you'll have to fill Form-A for XYZ"; the live chat agent can type, "you'll have to fill Form-A for XYZ. Here's the form link: *link*." Thus, the second conversation is more meaningful/helpful for the student.
5. You can also encourage shy students to interact
Unlike a phone call or in-person meeting, online chat is a safe space for shy students, students who're not confident in their questions, and international students who are uncomfortable with English (or your college's primary language). They can freely ask their queries to administrators and professors alike without getting anxious.
Furthermore, students will be more comfortable talking about sensitive topics through live chat, especially because they can share their queries anonymously.
6. Live chat saves you support costs
This is the most direct benefit of implementing a live chat: You save time and money.
One live support agent can concurrently answer 3-4 chatters, which isn't possible with email or phone calls. This means using live chat is significantly productive than other options.
Live chat allows agents to send canned responses and help documents to solve problems faster.
You can implement a chatbot to answer frequent questions.
7. Finally, it lets other staff members to chat with other departments
Even your university staff can use live chat to talk with another department. For example, instead of generating a support ticket to the IT department during technical failures, they can simply send a chat request to save time.
[Here's how you can use Social Intents' MS Teams integration for an internal help desk.]
Why Choose Social Intents For University Live Chat?
Given all its benefits, adding live chat to your university website is a no-brainer. Similarly, using Social Intents as your live chat software is a no-brainer for so many reasons:
1. Unlimited Team Members
Many live chat software companies have an expensive per agent pricing. Not Social Intents.
Social Intent's Basic, Pro, and Business plans allow you to add unlimited agents. Meaning, you can give everyone ⁠— admin, professors, academic advisor, librarian ⁠— access to chat with website visitors and students.
Here's a testimonial from Joshua S., who handles education management for a college with 100+ staff members:
"Social Intents powered our COVID-19 Success Story. Our college was given less than a week's notice that we needed to close our campuses due to the COVID-19 Pandemic. The live chat technology is so easy to learn, that within a week, we had more than 110 staff trained and answering hundreds of student's questions every day"
2. Chat routing
You don't want all departments and people to see all the chats. Therefore, we allow you to set workflows to route chat to correct people with our chat routing feature. For example, you can route a query about scholarships to the financial aid department.
Also, in case the query reaches the wrong department or general support team, the team member can easily forward it to the right person (with all the chat that has happened up until).
3. Connect with Slack or MS Teams
Slack and MS Teams are the top two internal communication platforms across industries, including educational institutions. For instance, more than 3,000 colleges, including Yale, Oregon State University, New York University, U.C. Berkeley, etc., use Slack for day-to-day academic discussions with students.
If you use either of the platforms in your university, you can connect Social Intents to it. Once connected, you'll get all the live chat query requests directly in the platform you have always opened. Next, you and your department members just need to accept the external chat request and start chatting.
4. Answer common questions with canned responses or chatbots
Social Intents also includes the canned response feature ⁠— you can set shortcuts to answer frequently asked questions. For example, if someone asks about your scholarship program, your can type "/livechat scholarships" in Slack and send all the details about your financial aid programs.
You can even set chatbots for responding to students quickly. For example, when the visitor starts the chat, ask them what they need info about and give options like "Admissions," "Scholarships," etc. Based on their response, the chatbot can send relevant pages/docs/messages.
5. Easy to setup
Social Intents' live chat is quick and easy to set up. The whole process consists of just three-steps:
Sign up for Social Intents' 14-day free trial or choose a plan.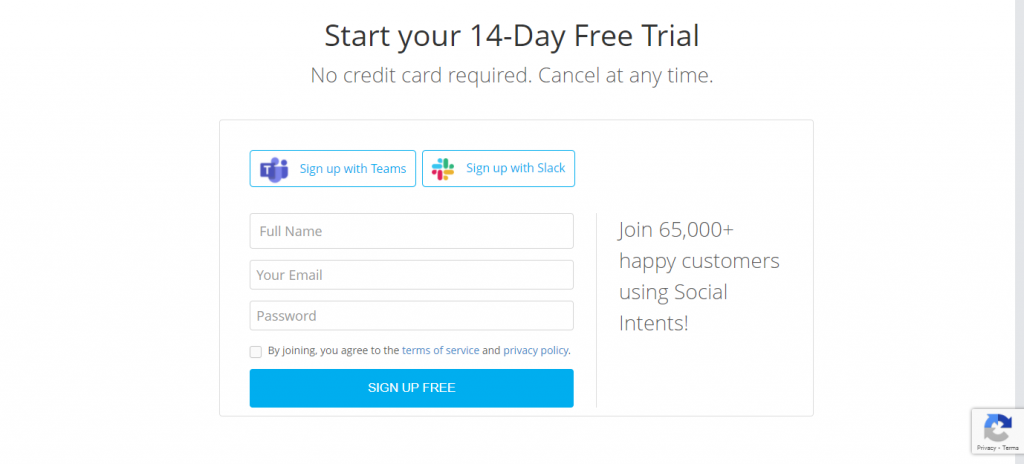 Add Live Chat.

Copy the HTML code and paste it on your website.

Besides that, you can customize everything about Social Intents Live Chat – fields, colors, look, visibility, and more.
Get Social Intents' Live Chat For Your Institution
Your educational institution can greatly benefit from live chat.
You can use it for student engagement, lead generation, and more enrollments. At the same time, using live chat is more productive, and it saves time and monetary costs. What's more, your prospective and current students actually prefer it over other forms of communication, making live chat a must-have.
Social Intents is ideal to power your university website with live chat.
Unlike most other live chat services that price their platform on a "per agent" basis, we allow unlimited agents. Besides, we have all the standard live chat features and more—for example, our Slack and MS Teams integration. The integration makes the already productive live chat conversations even more productive by allowing your staff to chat from the internal communication software they have always open.